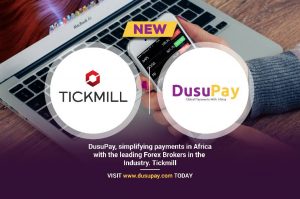 Tickmill the cyprus based forex and stocks trading platform now using DusuPay to accept online payments from Africa.
Its Africa's turn now. We are seeing more and more global companies rushing to extend to the continent to tap into Africa's recent growth. The continent is set to transact more than $1.8 trillion annually by 2020 and the world has noticed this opportunity.
About Tickmill
History
Tickmill is a financial securities trading company. Based on Wikipedia
"Tickmill was founded in Mahe, Seychelles in August 2014 by its current shareholders. In January 2015, the company started providing retail brokerage services.[2] [3]
Tickmill began its CFD operations in March 2015, providing Germany, Japan, Europe, the United Kingdom and the United States stock indices.[4]
In June 2015, Tickmill announced the launch of its renewed Introducing Broker (IB) program."
Going Forward
The company is set to stabilize its position as market leader in financial securities trading in Africa. They clearly understood that Africa is a mobile first economy so they have integrated with Dusupay to make it possible for their clients in Africa to pay them with or without bank accounts.
The best bit is both collections and pay outs will both be available meaning the people on the continent can get paid back and pay using any local modes of payment they are accustomed to.
With this newly formed integration with DusuPay's payment gateway, we believe this  is a company to watch in Africa's next financial revolution.